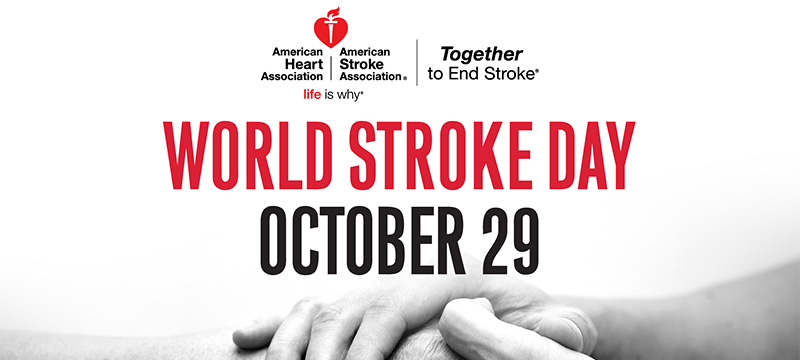 There are few health events more frightening or damaging than a stroke. Globally, there are more than 17 million strokes suffered each year; these lead to more than 6 million deaths and 5 million people becoming permanently disabled. While there are a number of lifestyle changes you can make to reduce your risk of stroke, the reality is that strokes can still strike anyone without a moment's notice.
In honor of World Stroke Day 2018 on October 29, let's take a few moments to learn how to recognize the effects of a stroke, and to promote stroke prevention in Santa Clara County, CA.
Learning how to recognize the signs of a stroke is exceptionally important. If a stroke is identified quickly, there's a greater likelihood that doctors can reduce the risk of permanent disability or death. While it's true that strokes are an exceptionally complex medical issue, they are treatable to a certain extent. Additionally, the severity of stroke often depends on the area of the brain it affects and other underlying health issues the patient suffers from.
Many providers of Home Care in Santa Clara County, CA use an acronym, FAST, to help them remember the signs of a stroke. Here's how the FAST acronym can help you identify the signs of a stroke in yourself or your loved ones:
Face drooping:
If one side of the client's face is drooping, or if one side of your face feels numb, it's advisable to call a doctor immediately. Not only is this often a sign of a stroke, it's also a sign of a number of other serious medical conditions.
Arm weakness:
One arm feeling weak or numb is also a sign of a number of serious health problems, including stroke. Call for medical attention as soon as possible if one arm suddenly becomes numb or weak.
Speech difficulty:
One of the most telltale signs of a stroke is difficulty speaking. If you or your loved one suddenly can't communicate clearly and effectively, or if the speech sounds slurred or even drunken, it's likely the result of a serious and sudden brain problem.
Time to call 911:
If any or all of these symptoms occur, it's time to call 911. When treated quickly, doctors can alleviate some of the negative impacts of a stroke, and potentially stop death or long-term disability from occurring. Recognizing these symptoms will help you get medical attention in a timely manner.
Senior Care Connection, Inc. is a trusted provider of In-Home Care in San Jose, CA. We are a fully licensed, bonded and insured company that offers customized in-home solutions for clients in need of consistent personal care and attention. We're proud to be a locally owned and operated company; we also maintain a license with the California Department of Social Services.
If you or your loved one has previously suffered from or is at risk of a stroke and needs customized, trustworthy care, you can count on us to provide you with dependable services that meet your specific needs.
Categorised in: Senior Home Care